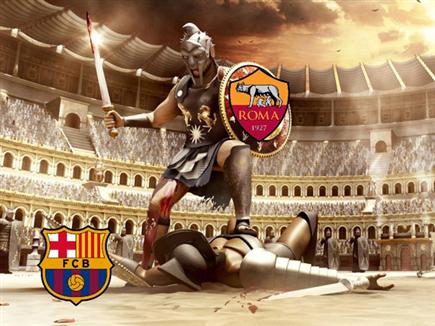 קצת יותר משנה אחרי שברצלונה עשתה את זה בענק לפ.ס.ז', הקארמה התפהכה לקטאלונים. הג'יאלורוסי מחקו פיגור של 4:1 מהקאמפ נואו וניצחו 0:3 את מסי וחבריו כל הדרך לחצי הגמר. כל הממים והתגובות מערב חד פעמי באולימפיקו. 
Barca get caught out.#asroma #ASRomaBarca #ChampionsLeague #comeback #UCL #ASRBAR #romabarcelona #asromaatx #ForzaRoma #ASRFCB #asromafans #barca #barcelona #Messi #2018worldcup #fifa18 pic.twitter.com/o7VWCV9B8g

— soccer10pro (@Soccer10sport) April 11, 2018
Full time result: The ROMAns show Barcelona NO messi. pic.twitter.com/3TS4A8Zrtf

— Poaet 10/10 (@DPoaetic) April 10, 2018
Messi thought he'll face me in UCL finals, me..... pic.twitter.com/063jcRjmXs

— 20th october (@Armehyashe) April 11, 2018
Messi after completing 2,599 take ons against AS Roma but no goals / assist. pic.twitter.com/SlvlQMCeV7

— ️Dayor (@kvng_dayo) April 10, 2018
Ronaldo playing badly is the problem when Real Madrid lose.
The coach's tactics is the problem when Barca lose.
The media weave two different narratives about these two. Responsibility always falls on Ronaldo's feet & he rises to it. Less so with Messi, that's why he bottles it pic.twitter.com/4tUpDfIUSd

— Harvey (@akajoebass) April 10, 2018
ROMA 3-0 BARCA!!!!

Roma are going through to the semi's as it stands... pic.twitter.com/IBEM0ZmgSw

— Footy Accumulators (@FootyAccums) April 10, 2018
BARCA GOING OUT pic.twitter.com/nhMuixJcb7

— George Georgallas (@GGeorgallas86) April 10, 2018
Looking at this Roma-Barca match like pic.twitter.com/eVXfH4DYjl

— FREE ODELL (@OffWhiteStan) April 10, 2018
NOI SIAMO LA... ROMA!!! ️

E SIAMO IN SEMIFINALE DI @ChampionsLeague!!! ️#ASRoma #UCL pic.twitter.com/phkG3VSq2S

— AS Roma (@OfficialASRoma) April 10, 2018
This is how it feels pic.twitter.com/0f7E9mr0LS

— AS Roma English (@ASRomaEN) April 10, 2018
DAJEEEEEEEEEEEEEEEEEEEEEEEEEEEEEEEEEeifefefbejfwjofnwjfnwjfbrufbwfubweufbewfuewbewbfwejfwjlfjfwfjlwfjbfjwfbwjfbwjofwjfnewjofnewjofnwjfnweAHHHHHHHHHHHHHHHHHHHHH!!!!!!!!!!!!! #RomaBarca 3⃣-0⃣#ASRoma #UCL

— AS Roma (@OfficialASRoma) April 10, 2018
Que bueno !!!! Como debe estar el #StadioOlimpico Dijo Di Francesco "creo en los milagros" tenía razón ... Felicitaciones @OfficialASRoma Semifinalista de la #ChampionsLeague !!!!! #UCL #Roma #RomaBarça #ForzaRoma ️ pic.twitter.com/9UIy9j1B7Z

— Gabriel Batistuta (@GBatistutaOK) April 10, 2018
The greatest video you will watch, and the greatest away end I've ever been in. UP THE REDS. pic.twitter.com/nPJOVFWQ4C

— Oliver Bond (@Oliver__Bond) April 10, 2018
Omg Barca pic.twitter.com/7KKpkRbggv

— luki (@RealLucasMoraes) April 10, 2018
Ohhhhhhhhhh snap!!!! Barca are about to go out pic.twitter.com/NIHEGR2S8U

— Mpho (@Mpho_Rach) April 10, 2018
Barca fans right now. pic.twitter.com/ED80sHncPo

— Football Stuff (@FootbalIStuff) April 10, 2018
Both British and Spanish Barca getting it from the back. pic.twitter.com/quz2YnY5RP

— 07 (@waxxa_official) April 10, 2018
MoRosement convincing himself that Barca are a good team to watch pic.twitter.com/UZb9uUxhDn

— (@dyballocks) April 10, 2018
Roma 3-0 Barcelona!
Barca are crashing out of the Champions League unless they score in the next 10 minutes! pic.twitter.com/u7wW9SsGf6

— 101 Great Goals (@101greatgoals) April 10, 2018
Omfg Barca pic.twitter.com/rAW3SogEqh

— Adrian (@adrianm211) April 10, 2018


Can Messi save Barca? Five minutes remaining in Rome...https://t.co/oIe9tXrhf1 pic.twitter.com/M8OyHORjI4

— Mirror Football (@MirrorFootball) April 10, 2018
Roma fans whenever Messi touches the ball until the end of the game pic.twitter.com/yRYL8SbJ6P

— Nikola Vucevic (@NikolaVucevic) April 10, 2018
Messi, please do something! pic.twitter.com/Kk5xbQi8qe

— Harold Siyaya (@HAROLEGEND) April 10, 2018
Valverde has really done Messi dirty like this. pic.twitter.com/lddxCkiuV3

— A (@_Az98_) April 10, 2018
Barca and Messi fanatics right now after Roma's 3rd goal #romabarca #ChampionsLeague pic.twitter.com/p99dmXIfjz

— Tinka️ Reagan (@badboytinkaR) April 10, 2018
בינתיים באיתיחאד, ליברפול חזרה מפיגור וגברה 1:2 על מנצ'סטר סיטי כדי להעפיל לחצי הגמר.  
Pep confronting the referee at full-time... pic.twitter.com/cmXum1zRcg

— Football Funnys (@FootyFunnysUK) April 10, 2018
RT if you thought that guy left of Pep was going to say "sorry mate you're in my seat." #MCILIV pic.twitter.com/Zv5C2bPVDp

— BenchWarmers (@BeWarmers) April 10, 2018
Pep Guardiola sits in the stands for this half after trying to show off to the ref with his awful impression of a beaver. pic.twitter.com/EiaFUwi7OA

— SportsJOE (@SportsJOE_UK) April 10, 2018
Pep.....Is this your Million pounds team pic.twitter.com/98fhBN2Eh6

— Minister Of Indomie & Egg Affairs (@Uchybaba) April 10, 2018
We are in the @ChampionsLeague semifinals guysAmazing job tonight boys. Thanks to all the fans for the incredible support
WE ARE LIVERPOOL #lfc #reds #ynwa #ucl #semifinal #amp18 pic.twitter.com/gaWrDmzxJx

— Alberto Moreno (@lfc18alberto) April 10, 2018
Arteta when he found out he now has to lead City after pep was sent to the stands pic.twitter.com/4eB4gJypnI

— Everton Fans Corner (@EFCFansCorner_) April 10, 2018
Pep off, time for the brains (and hair) behind the operation to take centre stage. pic.twitter.com/gi8Ho5CKqn

— Tim Stillman (@Stillberto) April 10, 2018
Pep sent to the stands? pic.twitter.com/9KdiwqixHZ

— Elmo (@WhenImElmo) April 10, 2018
Lahoz sending off Pep? Why am I not shocked...... pic.twitter.com/ebil7iyy6H

— mx (@LioMessi10i) April 10, 2018
Pep wasn't too happy...#MCILIV pic.twitter.com/Ph9KYEobfm

— BenchWarmers (@BeWarmers) April 10, 2018
Pep sent to the stands i hear pic.twitter.com/GriXpnpvPU

— Zane (@WalterTactic) April 10, 2018
Mohammed Salah scores for Liverpool against Manchester City!

Harry Kane : pic.twitter.com/j4YRu1XGj7

— Brad (@B_Ndiba_) April 10, 2018
Goal in life is to be as happy as my dad when @22mosalah scores pic.twitter.com/L7Maynhipz

— nozza (@nouraelgharably) April 10, 2018
Thank god for Mohamed Salah. Our pride. pic.twitter.com/5T4NZ1jDqD

— Liverpool Family (@lfc_family) April 10, 2018
Liverpool fans reaction after SALAH's crucial away goal... pic.twitter.com/p5Qk2DFE9W

— Football Vines (@FootballVines) April 10, 2018
The man. The myth. The @22mosalah. pic.twitter.com/HUA3txwwGr

— LFC USA (@LFCUSA) April 10, 2018
The Egyptian King comes up with a magical finish